About This Rental:
House: 4700 sq. ft

8 bedrooms, 9 beds, Sleeps 16

9 bathrooms: 7 full baths, 2 half baths

Common Spaces: Kitchen, Living Room, 2 Decks (1st & 2nd Floors), 2 mini decks (3rd Floor)
About Our Village:
West Hampton Dunes is a small village on a gorgeous barrier island just east of Fire Island on the south shore of Long Island. It is the westernmost village within 'The Hamptons' and as such the most accessible to NYC and beyond. West Hampton Dunes is small at 3.9 square miles; there is one main east-west road, Dune Road.
Our home is the 10th home on the Ocean side of Dune Road when entering from Westhampton Beach; we are on the east side of the village. There are numerous advantages to renting on the eastern side, including proximity to town. The beaches are legendary world class white sugar sandy beaches. Dune Road (& West Hampton Dunes in general) is a fabulous beach town paradise, lined with gorgeous oceanfront beach homes on the south side, and bayfront homes on the north side.
Life is relaxed, carefree, and there are fabulous views from every location. People strolling Dune Road, riding bicycles, pushing strollers, walking dogs, & coming and going to the beach......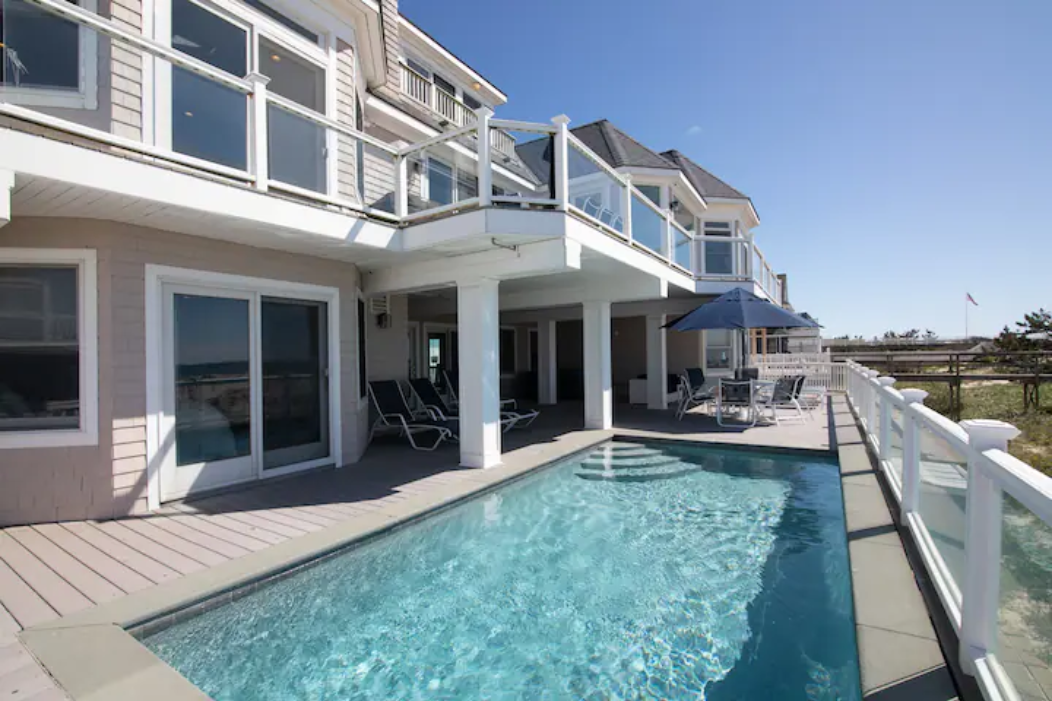 8 Bedrooms, 8 Baths, (Sleeps 16); 2 master suites, 2 Rooms 3rd Floor; Generator
ESCAPE FROM NYC METRO !
FRESH OCEAN AIR & PRIVATE LUXURIOUS BEACH LIVING !
Escape to our glamorous Westhampton oceanfront beach house, where the mesmerizing views from each room can be seen from all around the house. Our passion is to become Your Home Away From Home. Enjoy the best of the Hamptons at our home!
CALL 917.940.2922 FOR LAST MINUTE DEALS !
**********FLEXIBLE DATES and TERMS**************
Oceanfront beach house, in West Hampton Dunes, designed to offer a sense of modern luxury and tranquility. New construction on nearly 90 feet of oceanfront on prestigious Dune Road (the 600 block, close to the bridge & town, far from public beaches), nearly 5000 ft2. Always quick to be reserved.
Savvy Hamptons travelers head for Westhampton: family oriented, laid back atmosphere, the closest Hampton (least traffic), & the very best, broad sugar white beaches.
Incredible Bay views in addition to mesmerizing Ocean views.
More exclusive & private close to the WHB Bridge (further East) - closer to town, no public beaches. Only homeowners or our guests can access our stretch of beach - there are only private (no public) walkways. Front of house has gorgeous views of Moriches Bay; back of house faces directly to ocean. Access rights to Moriches Bay across the street for water activities. Breathtaking panoramic views of the Atlantic Ocean await you and will uplift you. Spectacular 360 degree water (ocean + bay) views throughout.
We love our guests ! Our goal is to make your vacation the ultimate getaway of your dreams. Indulge, relax, and recharge !
Live like a rock star while you stay at our captivating house ! House has been filmed or scouted for numerous TV shows, movies, and music videos, and by management of rock & roll hall of famers. Guests have included titans of technology and an Academy Award winning Best Supporting Actress.
Immerse yourself in the expansive ocean views and radiant sun warmth at our beach house:
3 levels, 2 full decks facing the ocean + 2 decks on the 3rd floor. Dual wide belgian block driveways fit several cars, plus 2 car covered garage. 8 bedrooms; 6 of those bedrooms with full bath, plus two 1/2 bath guest baths.
On the first floor, we have 4 bedrooms; 3 have queen beds, the other one has 2 double beds, & each with their own ensuite bathroom.
On the second floor, we have 2 oceanfront master suites with king size beds flanking the open living and kitchen / dining room area, each with spa bathrooms (including vessel sinks, twin onyx-lined spa showers with multiple heads and body jets spectacular), exquisite ocean views & private deck access. 2nd floor Living area has sweeping elevated views of the ocean and the bay. Majestic huge living space windows & sliding deck doors make you feel you are floating over the ocean. Find inspiration with spectacular sunrises from your private deck. Fabulous ocean views and sea breeze while you dine serenely at either the dinner table or center island / bar stools.
On the third floor, we have 2 more small bedrooms, which share a half bathroom. Beautiful second living room / kids play area on the third floor with incredible elevated views of both the bay and ocean.
Well appointed for your stay - The utmost in fine beach living + comforts of home:
Kitchen: Viking range, plenty of utensils & silverware, 2 Bosch dishwashers, 2 washers, Viking wine fridge, 2 coffee makers (including Keurig), large Weber grill on 2nd floor deck.
Loads of beach towels & beach chairs, beach umbrella, pool floats, multiple bicycles.
Concierge level assistance; plan a day trip or hire a chef !
Brand new, whole house Generator - the ultimate travel insurance !
Endless amenities await you:
central AC, central vac, heated and lit gunite pool; covered, spa / jacuzzi facing the ocean, suitable for year round use (covered by 2nd floor deck); extensive new outdoor furniture.
Seamless multimedia integration for the tech savvy vacationer.
Internet:
New, top of the line whole house Mesh Wifi with the highest internet speed available from Optimum (400 mbps).
Audio System throughout Indoors & Both Decks:
6 Sonos zones for up to 6 separate music streams, or play whole house music !
Full Dolby Atmos 5.1 home theater Sonos setup.
TV / Home Theater:
8 TV's, inc 65" new OLED in Living Room (all are Smart TVs which can stream online content; you can also stream content from your phones or laptops via AirPlay2, screen mirroring, or casting), Apple TV; free Netflix, Hulu, Amazon Prime Video, dual Sirius house accounts for your enjoyment, & more...
Perfect for indoor & outdoor entertaining: spacious double decks, with dining tables and chairs. Gold level Security / Fire / power outage / water / temperature Alarm systems (protection even in power failure), heated pipes, motion sensor LED floodlights impervious to power outages, front door Ring motion cam with phone notifications available, fabulous local police/constable with exceptional security. Business Center available, with multifunction fax / scanner / copier / printer. Gorgeous gas fireplace in living room. Private walkway (with solar lighting) over the sand dunes to the beach, outdoor shower. Childproof pool fencing available. The list goes on and on….
Bookings are Non Refundable
   (except for very limited conditions outlined in the Agreement, such that a significant portion of the home is uninhabitable for a significant period of time)
3% Suffolk County Hotel Tax applies
$595 Cleaning Fee, per stay
Laundry / Linen Fee may be applicable
$250 Pet Fee, per stay
$995 utility fee applies in July and August; additional Fees will be included in the agreement where appropriate (listing options for fees are very limited and do not vary with length of stay, etc...)
House Rules
Check in after 1:00 PM

Check out before 9:00 AM
Children allowed: ages 0-17

Pets allowed: Up to 2 pets of any size
Events allowed: birthday parties, family gatherings, weddings, other eventsMaximum event attendees: 35max 35 attendees (not sleeping over)

No smoking allowed indoors
Inquire about a yearly rental as well
We treasure our guests and pride ourselves on creating an oceanfront Hampton beach resort, which can become your Home Away from Home !
Off Season Wonderland:
Vineyards/Wine Tasting, Bicycling & Walking on Dune Road (3 miles each way to either the Westhampton Bridge or the western tip of the island (Cupsogue Park); Snowshoeing on the beach year round ! (2 snowshoes in the garage + 2 bicycles & helmets), Jacuzzi (all weather - covered by deck), Live Music, Antiquing, Estate Sales, Shopping/Tanger Outlets, Farmers Markets, Aquarium, drive to Montauk, Fishing, No summertime Traffic!
By Jill Mueller from Westhampton Beach, New York
whd 0907-11